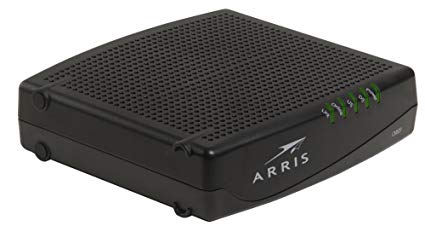 Description
Specification
The Touchstone CM820 DOCSIS 3.0 8x4 Cable Modem  delivers ultra-high speed data access to cable service subscribers' homes and businesses.
Designed to support the services desired most by advanced users, including full support for new IPv6 services, the CM820 enables the home or small business user to address productivity needs with the speed and performance found only in the 8x4 bonded channel cable environment along with industry-leading ARRIS reliability.
With the CM820, cable operators can offer data services at speeds greater than 300Mbps to their subscribers to compete against VDSL and fiber to the home threats.
The CM820 enables Cable Operators to support businesses with Ethernet Services over DOCSIS using the Cablelabs BSoD implementation and provides competitive high capacity commercial services to businesses.
Not available in retail. Please check with your service provider for availability.
FEATURES
Flexible NxM downstream/upstream channel bonding for superior throughput
Two independent 96MHz wide RF tuners to receive downstream channels up to 1GHz
Built in MoCA® immunity filter
Downstream scanning override via web GUI for rapid installation
Supports Business Services over DOCSIS 
VARIANTS
CM820A - DOCSIS 3.0 compliant
CM820B and CM820S - dual-mode EuroDOCSIS™ 3.0 / DOCSIS 3.0 compliant
CM820C - Japanese DOCSIS 3.0 compliant
DETAILS
Note: specifications are subject to change without notice.
8x4 downstream/upstream channel-bonding with superior throughput
Dual 96MHz wide downstream tuners
Backwards compatible with DOCSIS 1.0, 1.1, and 2.0
IPv4 or IPv6 addressing modes for DOCSIS CM layer
10/100/1000 Base-T Ethernet interface