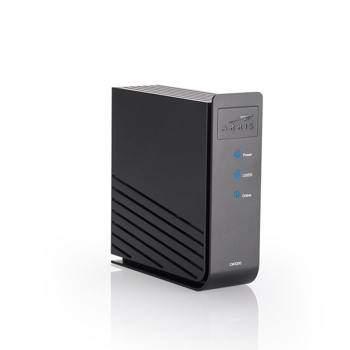 Description
Specification
The Touchstone® CM3200 DOCSIS® 3.0 32x8 Cable Modem delivers over a Gigabit per second of raw speed.
The CM3200 is well-suited to the home user – offering the speeds to stream multimedia content to multiple devices and the responsiveness to keep you "in the game" for online gaming.
The CM3200 is also a serious commercial solution, ready to meet the challenging demands of small business with its Business Services over DOCSIS (BSoD) support. 
FEATURES
DOCSIS®3.0 / EuroDOCSIS 3.0 Certified and backward compatible
External AC/DC Adapter for reduced product size
Flexible DS x US channel bonding support (up to 32x8)
DS Spectrum Analysis, Speed Test, and LEDs for troubleshooting
Business Services over DOCSIS ( BSoD ) support
Available in 42MHz and 85MHz upstream options
DETAILS
Note: specifications are subject to change without notice.
INTERFACES
RF Interface: 'F' type connector
Data Interface: 10/100/1000 Base-T Ethernet (RJ-45 connector)
Power Interface (nominal): 


Adapter input = 115-240 VAC, 50/60 Hz
Adapter output (to CM3200) = 12V/2A
SOFTWARE
Dual Stack IPv4/IPv6 Cable Modem, Static and Dynamic IP, L2TP, VLAN's, Y.1731, L2VPN
PHYSICAL
Dimensions (H x W x D) - excluding F-connector: 5.9in x 5.3in x 1.8in (15.0cm x 13.5cm x 4.6cm)
Weight: 0.77 lb (0.35kg)