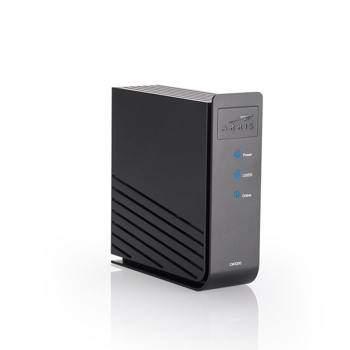 Description
Features
Hardware Specifications
Downloads
The Touchstone® CM3200 DOCSIS® 3.0 32x8 Cable Modem delivers over a Gigabit per second of raw speed.
The CM3200 is well-suited to the home user – offering the speeds to stream multimedia content to multiple devices and the responsiveness to keep you "in the game" for online gaming.
The CM3200 is also a serious commercial solution, ready to meet the challenging demands of small business with its Business Services over DOCSIS (BSoD) support. 
DOCSIS®3.0 / EuroDOCSIS 3.0 Certified and backward compatible
External AC/DC Adapter for reduced product size
Flexible DS x US channel bonding support (up to 32x8)
DS Spectrum Analysis, Speed Test, and LEDs for troubleshooting
Business Services over DOCSIS ( BSoD ) support
Available in 42MHz and 85MHz upstream options