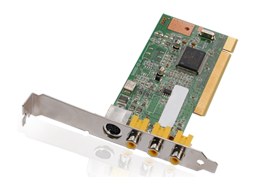 Description
Features
Specification
Originally designed to capture video for streaming, the Osprey 100 also has many uses in security, medical, scientific and other applications where audio capture is not needed. This is an ideal card for capturing video-only camera feeds like those used in ATM machines and surveillance, medical and scientific equipment.
Streaming since the beginning
The famous ViewCast Osprey 100, the card that helped start the streaming media revolution, is still an excellent choice for budget-conscious users with a need to capture and deliver video from composite and S-Video sources.
Ideal for video streaming.
Originally designed to capture video for streaming, the Osprey 100 is ideal for capturing video-only camera feeds including:
Security, such as ATM machines
Medical and scientific equipment
Surveillance equipment
Capture and streaming possibilities.
With the Osprey 100, you can plug in any standard video source, such as a VCR, camera or camcorder, and view crisp video on a PC. Use multiple Osprey 100 cards simultaneously in a single system or mix and match other Osprey cards for more input options.
Driver Support:
Microsoft® DirectShow® API
Inputs:
One channel with 4 switchable inputs:
3 composite (RCA)
1 S-Video (mini-DIN)
Video Format:
Pre-Processing:
Closed-caption extraction/rendering
Logo/bitmap overlay
Scaling, cropping, de-interlacing and inverse telecine
Dimensions:
Half-height / Half-length board
4.74" L x 2.20" H (12.02 cm L x 5.58 cm H)
32-bit/5 Volt PCI™ card
Full PCI Rev 2.1 compliance
Hardware Warranty:
1 year limited hardware warranty
System Requirements:
Multi-core processors are recommended to run video applications.