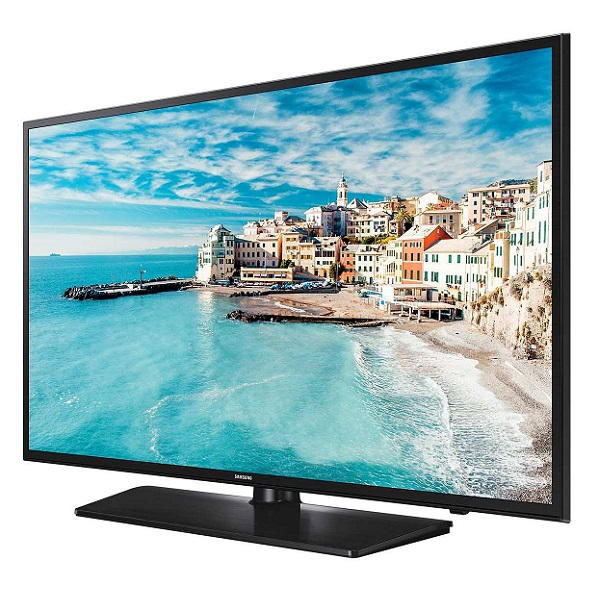 Description
Specifications
At a Glance
Get a complete platform for a luxury in-room experience with an at-home feel, at a cost that fits your budget. The crystal-clear, 4K UHD picture of the 690U series will impress guests from the moment they power on the TV. With SMART TV features, guests can watch movies and TV shows from streaming services, and push content from their personal devices to the big screen. And with IP-based hospitality management solutions, you can enjoy more efficient guest interaction.
4K UHD content delivery for a luxury experience
Powered by the Tizen OS, which enables system integrators to create fast, powerful and secure content
Conveniently manage content with Samsung LYNK REACH® 4.0
Seamlessly integrate smart devices into your management system with Samsung LYNK HMS
4K UHD Content Delivery for a Luxury Experience
Deliver the luxury experience your guests expect with 3840 x 2160 UHD resolution. Offering four times the pixels of Full HD, the 690U series showcase every movie, property content and partner advertisement in stunning, lifelike detail.
Tizen OS Delivers Power and Speed
This hospitality TV is powered by our new Tizen OS. It allows system integrators to create advanced graphics with fast rendering speeds, for a sleek, impressive viewing experience. Tizen also offers exceptional security to ensure your business technology remains safe and protected.
H-Browser Compatibility
Enabled by Tizen, H-Browser is a true SMART TV solution that allows exceptional flexibility for content development, so that certified system integrators can create smart hospitality solutions. It features both free and video on demand (VOD) content, and is able to interface directly with the head end without a set top box.