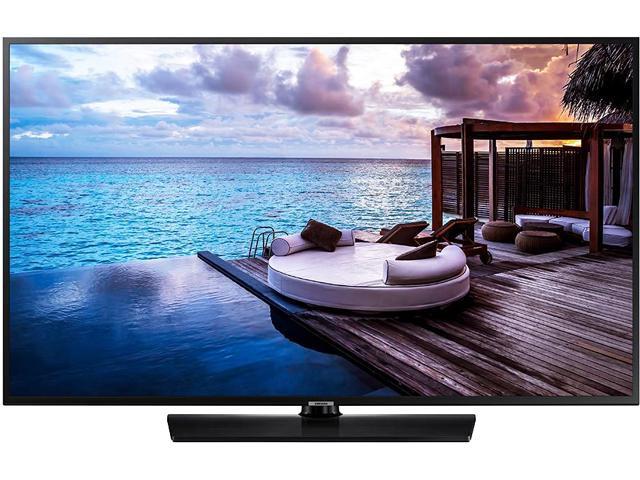 Description
Specifications
At a Glance
Stunning 4K UHD resolution and HDR10+ picture technology on Samsung's 670U Series delivers an exceptionally sharp, clear and bright picture. And with direct-lit LED technology, you get the benefits of LCD at a cost of entry not much different than a traditional CCFL back-lit option. Content management is made simple too, with the Samsung LYNK REACH® 4.0 management solution. And Samsung's LYNK™ DRM technology protects content, while offering guests a seamless viewing experience.
4K UHD resolution plus HDR10+ picture technology for a first-class guest TV viewing experience
Direct-lit LED technology for an affordable hospitality TV solution
Conveniently manage content with Samsung LYNK REACH 4.0
Integrated software-based Samsung LYNK DRM technology protects content while delivering seamless viewing
4K UHD Resolution Delivers a Breathtaking Experience
Deliver a first-class experience with stunning 3840 x 2160 4K UHD resolution. Every picture will be sharp and impressive, every word crisp and legible.
HDR10+ Picture Technology for Incredible Depth
4K UHD delivers more pixels, and HDR10+ gets the most out of every one. Color is richer. Light and dark scenes are more balanced. Contrast is expanded, for greater picture depth and nuance. Every guest experience with the 670U Series will be an incredible one.
Direct-Lit LED Technology for an Affordable Solution
Direct-lit LED technology provides the brilliance and energy savings advantages of LED technology, along with the uniform brightness typical of CCFL displays. And it does it all with an efficiency that makes it an affordable technology. In fact, it's possible to upgrade your rooms to LED technology for a cost comparable to CCFL technology.