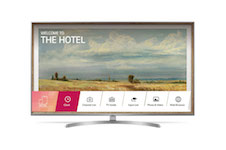 Description
Specifications
Pro: Centric Hotel Management Platform*
Pro:Centric SMART is optimised for customising hospitality​ platforms for hotel brands and guests through an IP & RF infrastructure. With its high picture quality, sophisticated design and advanced connectivity functions, it upscales in-room entertainment and increases convenience through implementation of high-end technology
Pro: Centric Direct Solution
Pro: Centric Direct is a hotel content management system that supports simple editing tools and provides various solutions and IP-network-based remote management. With this solution, users are able to design UI easily and provide customised service which is implemented by the System Integrator via the PMS system.
New Quick Menu (2.0)
You can enjoy LG's simple home menu solution. It provides editable welcome message, date/time and other frequently used menus in the form of a bar. These can be all set with a​ remote control or USB, and guests are able to easily access the menus they want improving satisfaction of their stay.
Voice Recognition
New Voice Recognition feature enables guest to easily control LG TV. This Smart Interaction may be manipulated by TV native control and Server based control.
High Dynamic Range Picture​
Upscale non Ultra HD content with the 6 Step Upscaler, all content is powerfully upscaled even closer to Ultra HD quality, for clearer, more striking images.*
​4K HDR gives you a fantastic, high dynamic range picture with more realistic colour for an enhanced viewing experience.
Smart TV by LG WebOS 4.0
This is LG Smart TV with WebOS 4.0. Explore the latest LG Smart TV features, and discover TVs that deliver innovative technology.​
Smart Clock
This visualised​ app-based clock provides information on current local time and times from around the world in smart way.
SmartShare
SmartShare allows users to share content more easily and quickly between various devices.
ScreenShare
Connect a smartphone or a laptop PC to TV via a Wi-Fi Direct connection. The TV will display the device's screen, and users can share their content and memories together.
Bluetooth Sound Sync
Bluetooth Sound Sync enables users to listen to music on a mobile device through TV speakers via Bluetooth connection
SoftAP 
SoftAP means Software enabled Access Point. This "Virtual" Wi-Fi feature executes by software working on the device to create a wireless hotspot.
EzManger
EzManager provides convenient installation function that helps to set up Pro: Centric TV settings automatically without extra effort of configuration. 
TV Link Interactive
LG Protocal through RS-232 allows communication between TV and SI interface box, eventually giving smart service and more contents to Hotel guests.
External Speaker Out
Enhance the entertainment experience by adding an additional speaker. Guests listen to and control the TV audio from anywhere in the business areas, including restrooms.
Commercial Swivel Stand
Expand the range​ of comfort for the guests with a commercial grade stand by allowing them to watch a TV from any angle.
Pro: Idiom
Prevent any illegal copying of content by the widely used DRM (Digital Right Management).