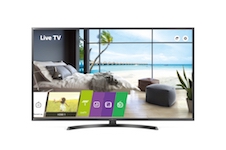 Description
Specifications
A Standard Smart Hotel TV with Pro:Centric Smart*
The UU665H series features an Ultra HD display, customisable apps, voice recognition and the interactive smart solution Pro:Centric SMART, all which will enhance guests in-room experience as well as hotel branding.
Pro:Centric Hotel Management Solution
Pro:Centric SMART is optimised for customising hospitality services for hotel branding and guest experience through an IP & RF infrastructure. With its high picture quality, sophisticated design and advanced connectivity, it upscales in-room entertainment and convenience.
Pro:Centric Direct Solution
Pro:Centric Direct is a hotel content management system that supports simple editing tools and provides various solutions such as IP-network-based remote management. With this solution, users are able to design UI easily and provide customised service.
Smart TV by LG webOS 4.0
The UU665H series comes with webOS 4.0, allowing guests to explore the latest LG Smart TV features, innovative technology and dynamic content delivery options.
Smart Clock
This app-based clock provides current local time, world time and weather information in a visual display.
LAN out with VLAN (Virtual LAN) ID
Make the most of the connectivity features which can help to overcome space constraints. The LAN out feature enables users to manage a virtual LAN and set VLAN IDs for external devices in the TV menu.
New Quick Menu (2.0)
LG's simple home menu solution provides editable welcome messages, date/time and other frequently used menus in the form of a menu bar templates. These can be set with a remote control or USB, allowing guests to access the menus they need.
Voice Recognition*
The new Voice Recognition feature enables guests to easily control the LG TV with their voice. This Smart TV interaction can be managed by the remote control and server based control.
ScreenShare*
Connect a smartphone or laptop PC to the Smart TV via a Wi-Fi connection. The TV will display the device's screen and users can showcase their content on the TV.
Bluetooth® Sound Sync
Bluetooth® Sound Sync enables users to listen to music on a mobile device through TV speakers via Bluetooth® connection.