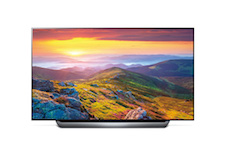 Description
Specifications
OLED Hotel TV with Premier IP & RF Solution
The world's best-selling OLED brand, LG OLED TV, embraces cutting edge Hospitality management technology - LG Pro:Centric SMART. It delivers greater usability and convenience for near seamless exploration of TV content, and also provides a great platform for hotel management.
Perfect Black. Intense Colour
This state-of-the-art OLED Display generates over a billion rich and beautiful colours. Combine this with no backlight, and you also get the most hair-raising blacks imaginable for enhanced contrast.
4K Cinema HDR
4K Cinema HDR delivers a stunning high dynamic range picture, while Dolby Vision™ dramatically enhances the colour and contrast of HDR content frame-by-frame, for a truly cinematic viewing experience.
Cinematic Sound with Dolby Atmos®
This LG OLED TV creates a high-quality sound experience, even when space may be limited. Dolby Atmos® allows viewers to enjoy dynamic cinematic sound, and the ability to process Dolby Vision™ means that this TV produces impressive clarity, richness and detail.
Picture-on-Glass, the Artistic Aesthetics
Furnished with sleek design, the product takes its artistic aspect to the next level. As the need for distinct elements like bezel or a thick stand has been eliminated, the refined but aesthetically stifled design intensifies the viewing experience.
OLED Gallery Mode
Bring the wonders of the world to your Hotel space with OLED Gallery Mode. From photography of beautiful places to world-renowned artwork, Gallery Mode provides a great selection of beautiful images and videos. Stunning contents creates a perfect atmosphere that suits your visitor's mood.
Pro:Centric Hotel Management Solution
Pro:Centric® SMART* is optimised for customising hospitality platforms for hotel branding and guests experiences through an IP & RF infrastructure. With its high picture quality, sophisticated design and advanced connectivity, it upscales in-room entertainment and convenience.
Pro:Centric Direct Solution
Pro:Centric Direct is a hotel content management system that supports simple editing tools and provides various solutions such as IP-network based remote management. With Pro:Centric Direct, users can design adaptable user interfaces and provide customised service.