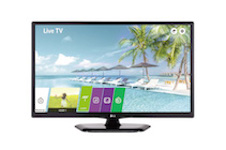 Description
Specifications
Wake-up On LAN
WOL (Wake on LAN) helps you remotely turn on TVs over your network. Connect TVs and a control device on the same network, and send a WOL Packet to the MAC addresses of registered TVs. Then, it will wake up the TVs via the LAN port.
SNMP   
SNMP (Simple Network Management Protocol) ensures convenient network management for SI and business managers.
Compatibility with AV Control system
This LG TV has Crestron Connected Certification, a function and network based control system that is dedicated to meeting rooms and that meets a growing need in the corporate meeting space market.
New Quick Menu (2.0)
LG's simple home menu solution provides editable welcome messages, date/time and other frequently used menus in the form of a menu bar templates. These can be set with a remote control or USB, allowing guests to access the menus they need.
Time Scheduler
Create your own time scheduler of your Commercial TV. Once you set opening/ closing hours and holidays, the TV will turn on/off according to work schedule.
USB Auto Playback / USB Auto Playback+
USB Auto Playback+ allows you to create playlists from your favourite media files* then play on the TV without a PC and any installation.
Welcome Video / Screen
First impressions are important. Having a warm greeting message with the Hotel name and its logo on the TV or a customised video in various formats* will help the guest feel more welcome.
Audio Channel
Auto Channel is an app that groups audio/radio channels together providing a simplified selection audio menu for your customers.
External Speaker Out
Enhance the entertainment experience by adding an additional speaker. Guests listen to and control the TV audio from anywhere in the business areas, including restrooms.