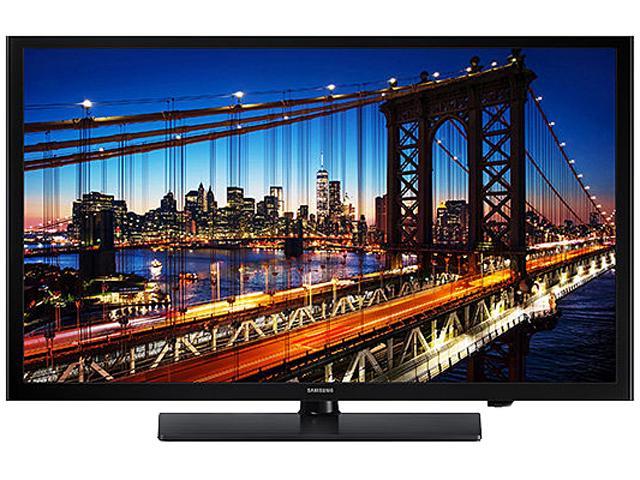 Description
Specifications
At a Glance
Our 690 Series Hospitality TVs deliver a complete platform for a premium in-room experience with an at-home feel. With these SMART TVs, guests can watch movies and TV shows from streaming services, check Facebook, Twitter and Skype to stay connected, and even push content from their mobile devices to the big screen.
Slim Direct-Lit LED provides a great picture with uniform brightness and energy savings
SMART TVs with H-Browser compatibility and Samsung Smart View.
Conveniently manage content with Samsung LYNK REACH® 4.0
Versatile viewing thanks to a swivel stand that rotates 90° in both directions with optional stops
Premium Slim Direct-Lit LED
Direct-lit LED technology provides the brilliance and energy savings advantages of LED technology, along with the uniform brightness typical of CCFL displays. And it's possible to upgrade your rooms to LED technology for a cost comparable to CCFL technology.
Samsung LYNK REACH® 4.0 Content Management Solution
Combining the benefits of our SINC and REACH hospitality technologies, LYNK REACH 4.0 is a unified content management solution that enhances hotel management, monitoring and guest service functions. You can remotely manage your in-room TVs and deliver personalized service, while your guests can access a range of IP and RF channels, applications and services for an in-room experience with an at-home feel. And it accommodates LAN, Wi-Fi and coaxial infrastructures.
H-Browser Compatibility
Built on the HTML5 standard with Flash® support, H-Browser is a true SMART TV solution offered on our 690 Series through partnerships with certified system integrators. It features both free and video on demand (VOD) content, and is able to interface directly with the head end without a set top box.