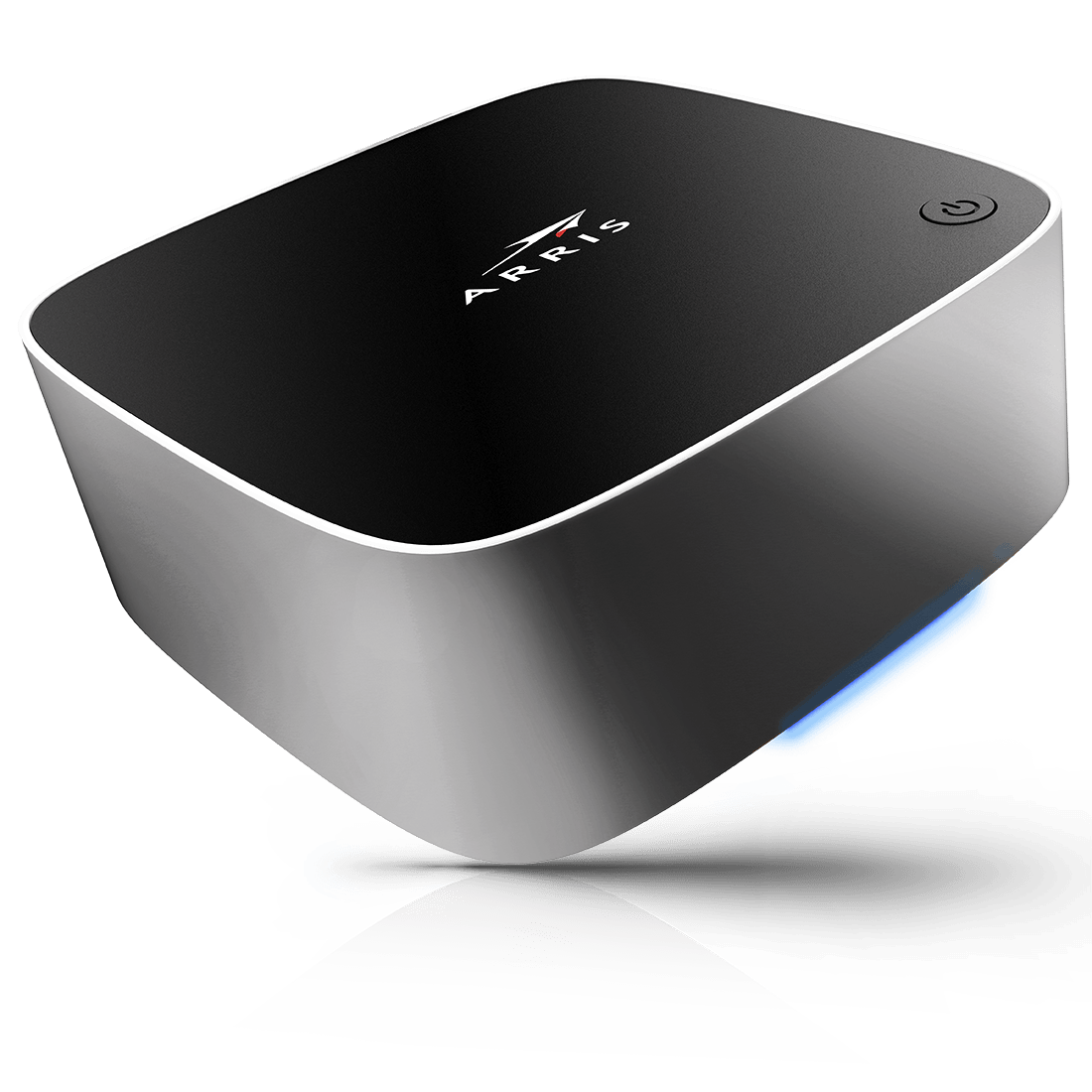 Description
Specification
ARRIS presents a range of stylish, high-quality UHD (4K) DVRs in a small form factor, with models for cable, satellite, terrestrial and OTT operators. The Px5517 is an Android TV compliant DVB platform which uses the latest technologies to reduce power consumption and increase processing capabilities.
Enhanced Whole Home Connectivity - the Px5517 is a highly-connected unit with integrated 4x4 IEEE 802.11ac dual band Wi-Fi. This delivers exceptional performance even in challenging environments through next generation technologies such as MU-MIMO and beamforming. USB 2.0 allows the connection of additional storage devices for functions such photo viewing. The Bluetooth Low Energy remote control option supports voice search and allows for hidden installation.
High Quality Video Experience - Ultra-HD, 10-bit colour and High Dynamic Range deliver four times the resolution of full HD, improved colour reproduction and a wider luminance range for an image that's even closer to reality, all at frame rates that allow fast-moving action with reduced blurring. The Px5517 includes HDR<>SDR conversion for video and graphics, allowing the seamless use of legacy UIs on HDR displays, and the viewing of HDR content on conventional displays without the need for simulcasting.
Enables a wide choice of User Experience – a high-performance processor, 3D OpenGL and fast LPDDR4 memory give the platform the power to support a wide range of middlewares, including Android TV, to deliver a modern user experience.
FEATURES
Android TV™ compliant platform
Integrated DVR with 1 TB of storage
Netflix Compliant (subject to Netflix/operator certification)
RDK 2.x ready and supports traditional Pay-TV middleware
4x4 dual-band selectable IEEE 802.11ac Wi-Fi
Virtual dual-band simultaneous Wi-Fi option; 5 GHz only single band option
Powerful Quad-core Processor supports next generation user experiences
Support for a range of Conditional Access System options available, including ARRIS TITANIUM
Industry-standard DRM support including pre-integration with Microsoft® PlayReady®, Widevine®, and ARRIS SECUREMEDIA® DRM
The range includes models for OTT, DVB-C, DVB-S2, DVB-T2 or hybrid service providers
Ultra-HD with support for a wide range of HDR formats including HDR10, HLG and Dolby Vision (optional dependant on royalty)
VARIANTS
PC5517 - DVB-C, HEVC, Ultra-HD, Quad-Core Set-Top with 802.11ac 4x4 Wi-Fi
PS5517 – DVB-S2, HEVC, Ultra-HD, Quad-Core Set-Top with 802.11ac 4x4 Wi-Fi
PT5517 - DVB-T2, HEVC, Ultra-HD, Quad-Core Set-Top with 802.11ac 4x4 Wi-Fi
PH5517 - DVB multi-standard (on request), HEVC, Ultra-HD, Quad-Core Set-Top with 802.11ac 4x4 Wi-Fi
DETAILS
Note: specifications are subject to change without notice.
PROCESSING & MEMORY
Quad-core, 15000 DMIPS
2GB DDR4
8GB eMMC Flash, 4 MB SPI NOR (optional)
GRAPHICS
VIDEO DECODE
Video decode up to 4kp60 10bit
HDR10, HLG and Dolby Vision HDR formats supported
DVB-C, DVB-S2 and DVB-T2 front-end options
INTERFACES
RJ-45 Fast Ethernet
4x4 802.11ac dual-band selectable (option: 5 GHz only single band)
USB 2.0 Type A 500 mA (option: USB 3.0 Type A 900 mA)
HDMI™ 2.1
SOFTWARE
RDK 2.x ready and supports traditional Pay-TV middleware
ARRIS SecureMedia® DRM, Microsoft PlayReady®, Widevine® support
ARRIS TITANIUM CAS, ARRIS Secure Bootloader support
PHYSICAL
120mm (W) x 120mm (D) x 45mm (H)
External PSU, localized according to region
EU Code-of-Conduct compliant
Compliant to Energy Using Products Legislation EC No 1275/2008 and amendment EU 801/2013