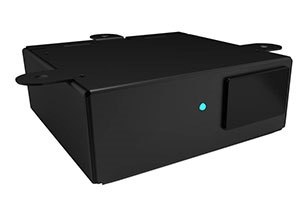 Description
Features
Specifications
Downloads
The new H150 IPTV device combines all the quality you have come to expect from Amino with a raft of exciting and innovative new features that deliver enhanced user experiences. With a dual core Broadcom SoC delivering more than 2000 DMIPS – and up to 1GB of memory – the H150 offers:
More TV apps, OTT content and services.
The H150 is a powerful high-definition device ideal for guest room and digital signage applications. Amino's field-proven enterprise solutions are widely deployed across a variety of use cases, including hotels, sports stadiums, shopping centres, aged care, corporate offices and aircrafts.
Whether you need to interact with hotel guests with a movie on demand service, engage visitors with action replays at a sports stadium, or capture shoppers with an interactive ad, our comprehensive range of enterprise solutions will enable you to connect with your audience. We can help you maximise the impact of your message or campaign and reach your audience more effectively.
Ability to integrate with other guest services - telephony, billing, internet, information
More engaging experiences
More content delivered from anywhere
Power over Ethernet
Rugged mountable case
Remote management
CEC Control over HDMI
Advanced Codec Support
DRM options available
Excellent support
Size and Weight
102mm x 97mm x 44mm. Mounting: 16mm. 400g
(excluding accessories and packaging)
Inputs
Ethernet 10/100 BaseT via RJ-45 shielded connector
Outputs
HDMI 1.4a. with HDCP and CEC
10-way Mini-DIN for Composite video, Component (YPrPb), RGB, S-Video and analogue audio.
S/PDIF (optical).
2x USB 2.0
RS232 serial connector
Power
5V DC at 3A via external power supply
Less than 12W typical usage (external supply input voltage 100-240V AC 50-60Hz, 0.8A max, output 5V DC 3A
Power over Ethernet (IEEE 802.3af - 2003)
CODECs
MPEG-2
MPEG-4 pt.2 (Visual)
MPEG-4 pt.10 (AVC/H.264)
WMV (VC1)
Video Resolutions
Up to 1080p60
Audio
MPEG (layer II)
MP3
Dolby Digital (AC3)
Dolby Digital Plus
AAC & AAC-HE
WWA
Memory
256MB Flash, 1G DDR3 RAM
Front Panel LEDs
Power on /IR command received (Red)
Operating Temperature
0°C (32°F) to 40°C (104°F)
Storage Humidity
5% to 95% RH (non-condensing)