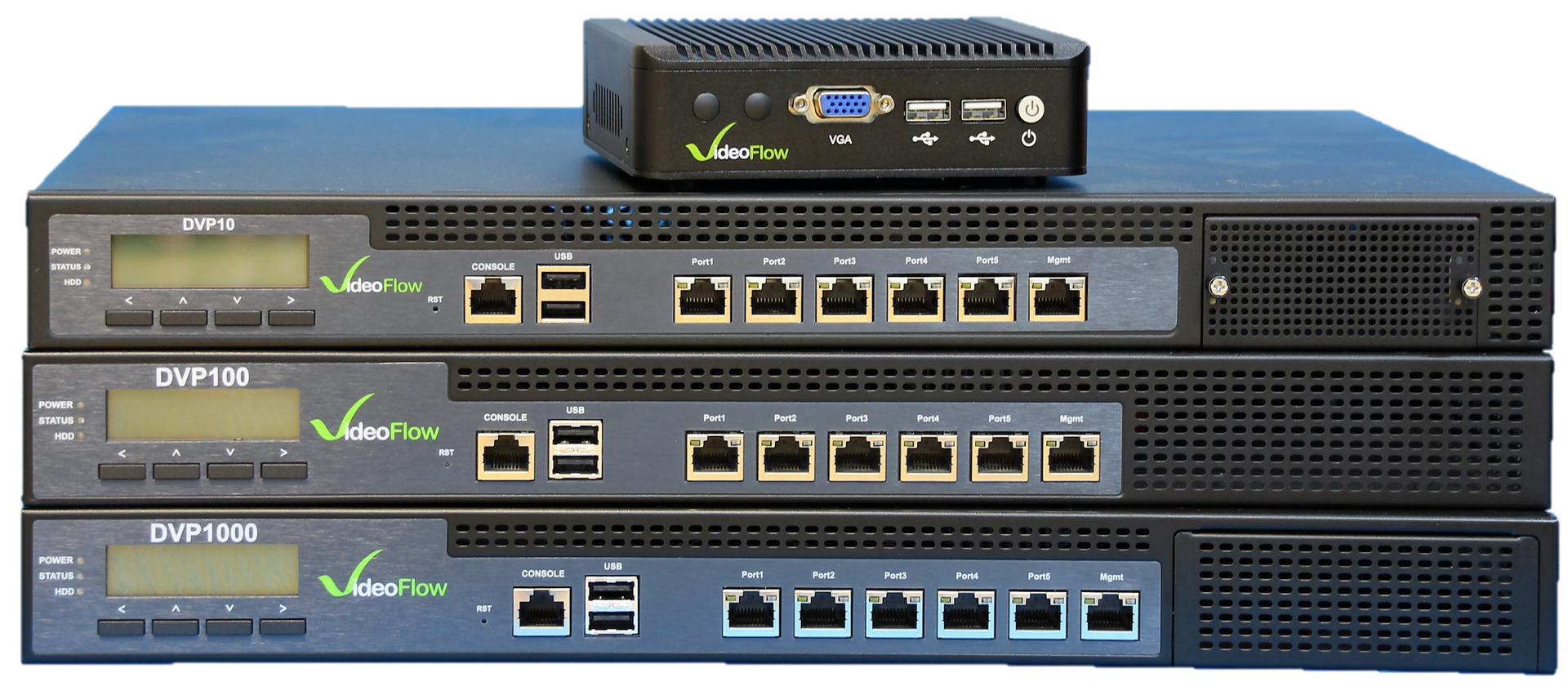 Description
Specifications
VideoFlow's Digital Video Protection (DVP) product line boosts the reliability of IP networks so you can use them to deliver broadcast quality video at a fraction of the cost of satellite or leased lines.
VideoFlow offers a proven product for cost-effectively delivering Professional Live Video over any IP network with guaranteed service continuity. DVP overcomes the inherent limitations of IP networks, eliminating jitter and ensures 100% recovery of lost packets with minimum bandwidth overhead.
Better yet, you'll be able to replace your expensive transport infrastructure with affordable always-available IP-based access solutions, including the public Internet, enabling you to reduce operational costs, introduce new services and increase margins.
We back up our proven DVP product line with patent-pending, breakthrough technology that overcomes the known limitations of IP networks to ensure unprecedented service continuity for live video transport.
WHY DVP?
Highest reliability - Boosts the reliability of any IP network by eliminating jitter, recovering 100% of lost packets and compensating for short-term bit rate fluctuations.
Best performance – Ensures lowest delay in market for C&D application with lowest overhead using VideoFlow's 4th generation packet loss recovery technology
Unmatched service continuity for live broadcast - Controls the encoder's video bit rate on-the-fly based on network conditions, together with unique set of high availability features
Lowest operational costs – Lets you replace leased lines with IP-based C&D links, use low-cost Ka-band satellite links, migrate backup links to IP and reduce bandwidth overhead.
KEY FEATURES
Flexible Operational Modes
DVP gives you the flexibility to support various operational modes and distribution architectures, such as point to point, point to multipoint, and multipoint to point applications. Each deployment requires a minimum of two devices. At the source, DVP operates in "Protector" mode, where it transmits the live feed coming from the source. "Sentinel" mode is used for receiving the live video stream at the consumption point.  DVP can also be deployed in "Fortress" mode, acting as a transit gateway and reducing bandwidth costs for point to multipoint distribution.
Seamless Integration within your network
VideoFlow provides a viable, cost-effective solution using standards-compatible products that enable seamless integration with existing and next generation networks. DVP works with any encoding/decoding technology, video format and resolution - handling MPEG2, H.264, and HEVC formats at SD, HD, 4K, and 8K resolutions. In addition, DVP is equipment vendor agnostic, working with whatever broadcast equipment you choose to use.
Uninterrupted service over any IP network
Using VideoFlow's patent-pending Controlled Adaptive Rate (CAR) technology, DVP is the only product in the market capable of ensuring service continuity for live video. CAR protects against fluctuations in the connection bit rate that can "freeze" the service. It probes the video stream health in real time and adapts the encoder's bit rate to the IP network conditions on the fly, ensuring uninterrupted broadcast quality video.
High availability (HA) toolset for IP networks
VideoFlow is the only vendor able to guarantee continuity of service for live video. Together with CAR, special HA features such as stream duplication, multi-ISP support and load sharing enable DVP to boost the reliability of unmanaged IP networks like the Internet. These features allow your Operations team to ensure high network availability using low-cost connections.
FORM FACTORS
DVP is a software-based product offering and can be purchased as a virtual machine or as a self-contained appliance. All products offer same core functionality and feature sets – the only difference is the bit rate capacity and number of concurrent streams the appliance supports.
| | | | |
| --- | --- | --- | --- |
|  Appliance | Max. bit rate  | Max. # of streams  | Max # of Tunnels  |
|  DVP1000 |  800 Mbps |  200 |  200 |
|  DVP100X |  300 Mbps |  80 |  80 |
|  DVP10XU |  80 Mbps |  16 |  16 |
|  DVP VXU |  40 Mbps |  8 |  8 |