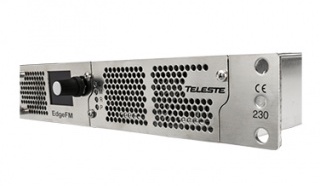 Teleste Palomino IP to PAL
Description
Specification
Teleste Palomino II is a modular IP to analog TV and IP to FM radio converter that provides high quality analog TV and FM radio signal in various modulation standards. The fully digital design ensures top class performance and operation in every condition. Add the Palomino CI and you'll have several options for channel descrambling.
High performance with fully digital design
The versatile Palomino II can manage 8 analog TV in one module thus enabling up to 24 channels in a compact 1 RU housing. One IP to FM module can modulate up to 40 FM radio channels. The unit receives IP streams in SPTS and MPTS formats, demultiplexes and decodes the received channels and finally modulates them to analog channels. The fully digital design ensures high performance operation in every condition. Power supply redundancy is optional and also IP input stream redundancy is supported as a standard feature.
Efficient usage of the output RF frequency range
Each of the 8 RF output channels are individually and independently programmable in a window of 80 MHz placed anywhere in the range of 47 to 862 MHz. This enables (full) flexibility and efficient usage of the available channel spectrum by allowing utilization of every frequency slot capable to carry even just a single channel.
Numerous input & output formats
The IP streaming input supports numerous input formats: unicast, multicast and source specific multicasting. Input link and source redundancy are also supported for each stream.
The Palomino can decode IP streams in SD and HD quality. In case of HD decoding an automatic downscaling is performed and AC-3 down conversion can be found as a standard feature. Automatic transcoding of teletext to analogue format is supported as well. Numerous audio formats and modes are possible to be decoded and modulated to analog mono and stereo on TV channels.
Palomino II Quad CI module - Several options for descrambling
Palomino II Quad CI (Common Interface) module adds 4 CI slots to the Palomino system. The CI slots can be configured very flexibly. Each CI slot can be allocated to its own stream or the CI slots can be daisy chained allowing numerous routing options for channel descrambling.
Versatile monitoring possibilities
The device configuration and management is done with an intuitive web user interface, and SNMP monitoring is also supported. The unit provides comprehensive set of monitoring and status parameters of the signal and the unit.
Rich in features
The Palomino II is equipped with all the features as standard to enhance the usability. The on screen text function can be edited to suit the needs of a specific channel or program. It also supports analog time-sharing allowing the operator have two or more different TV channels on one output channel. The embedded optional BISS descrambling can conveniently be managed through the web user interface.
Benefits of Palomino II:
High quality modular design for IP to analog TV and FM radio conversion
Fully digital design for the highest performance
Agile high power RF output for most efficient RF spectrum usage
Multi norm TV RF modulator (PAL B/G, I, D/K, SECAM D/K, L, NTSC M)
High density FM radio modulator with RDS encoder
NICAM and analog stereo sound with numerous audio modes
HD and AC-3 down conversions as standard
Intuitive WebUI for configuration
Versatile signal and unit monitoring options
Input source and link redundancy as standard features
In-chassis power supply redundancy (optional)
Quad Common Interface module with diverse routing options